Canadian Mandatory Electronic Logging Devices (ELD's) – 200 Days Until the Deadline
by Mike Bertamini
Tick-tock, the clock keeps moving towards Transport Canada's commitment to "meeting the coming-into-force timelines for electronic logging devices, which remains June 12, 2021"1.  According to the Canadian Trucking Alliance, the average transition time from paper logs to ELDS is 12-18 months. This includes procuring, implementing hardware and software, training drivers and staff and understanding how the system affects your operations and customer relations.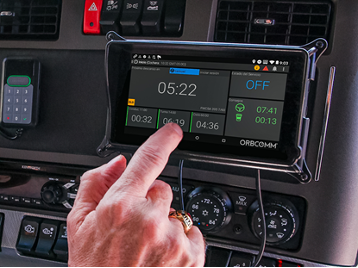 Motor carriers will need to choose, buy and install certified devices in their commercial motor vehicles by June 12, 2021.  The implementation of ELD's are designed to help reduce fatigue related crashes and life-altering events, which continues to be a challenge for all drivers on the road, not just drivers of commercial vehicles.  In addition to making it easier for drivers and motor carriers to comply with the regulations; the quality of life for drivers should be positively impacted.
The key to ensuring compliance is to make sure you use have started the process of procuring an ELD system which fits your company's needs.  Whether it's a comprehensive management system which incorporates In-vehicle monitoring system and on-board cameras or a basic device, there are some basic things to look for when shopping and comparing the ELD device that's right for your company.
ELD's are not the silver bullet to stopping fatigued driving.
Fatigued driving will not be stopped because of the implementation of ELD's.  ELD's should be part of a robust Fatigue Risk Management Program.  Although an ELD will track an individual driver's hours to ensure compliance, it will not be able to determine if a driver is fatigued/drowsy when behind the wheel.  This is when a driver must be empowered by his/her employer to stop, park the truck and get rest.  Further details on the Canadian ELD Standard and the October 27, 2020 updated Technical Standard for ELD's are available from the Canadian Council of Motor of Motor Transport Administrators (CCMTA) – https://ccmta.ca/en/national-safety-code/canadian-eld-standard.
June 12, 2021 is 7 months or approximately 200 days away…are you ready?  Pioneer Safety Solutions can support your company in implement an ELD program, along with a Fatigue Risk Management program.
1 https://www.canada.ca/en/transport-canada/news/2020/10/government-of-canada-marks-important-milestone-to-bring-electronic-logging-devices-into-commercial-vehicles.html
---
Call or connect with Pioneer Safety Solutions today to get on track to compliance!
403-700-8844 or www.pioneersafetysolutions.com
---
☰